Particulate matter, the invisible danger. But what is actually so dangerous about it? Well, to make a long story short: the danger lies in its size.
Particulate matter in the range of PM2.5 has a "size" smaller than 2.5 micrometers (2,500 nanometers) and is therefore able to pass through your lungs and spread throughout your body via the bloodstream.
A healthy person first copes with this and stores the particles in cells, where they then lead to inflammation and other problems later. When these radicals are then released, they put a load on the blood circulation. The smaller the particles are, the greater the effect.
And this is especially the case in processes where thermal energy is used to cut metal, for example.
The resulting particles are usually smaller than 1 micrometer (1,000 nanometers).
Making the Invisible visible
Technological tools can be used to monitor and control the danger. This is actually relatively simple. I will show you how to do it:
First you need a sensor that measures airborne particulate matter.
Fortunately, these exist and are not even expensive.
Talkpool OY1700 LoRaWAN Particulate Matter Sensor
Take the talk pool OY1700, for example. It actively measures the content of fine dust in the air we breathe using a laser (light scattering method) and transmits the measurement result via the LoRaWAN network to an analysis platform.
If you want to know more about how this technically works:
https://en.wikipedia.org/wiki/Dynamic_light_scattering
But mostly important: The measuring range starts at 0.3µm (300 nanometers) and ends at 16µm (16,000 nanometers).
So. Perfectly suited for the detection of welding fumes.
Monitoring for Clean-Rooms
However, particulate matter is not only relevant in industrial environments where welding is performed. Basically, particulate matter is relevant for all kinds of industrial production. Why else are there clean rooms (for the production of valves in medical technology, for example)!
Here the sensor can also be used to monitor the particle contamination in the air of a clean room. We have already been able to implement this successfully with a customer.
The measuring range of the sensor and its ability to analyse particle distribution in groups is in line with the requirements of the standards for cleanliness in clean rooms (VDI 2083).
The Gateway
For setting up a LoRaWAN Network, a suitable gateway is required to receive the data from the sensors and transmit it to a visualization system. The good thing is: LoRaWAN gateways are available in many different forms - and their price starts at 80€. For example the TheThingsNetwork Indoor Gateway: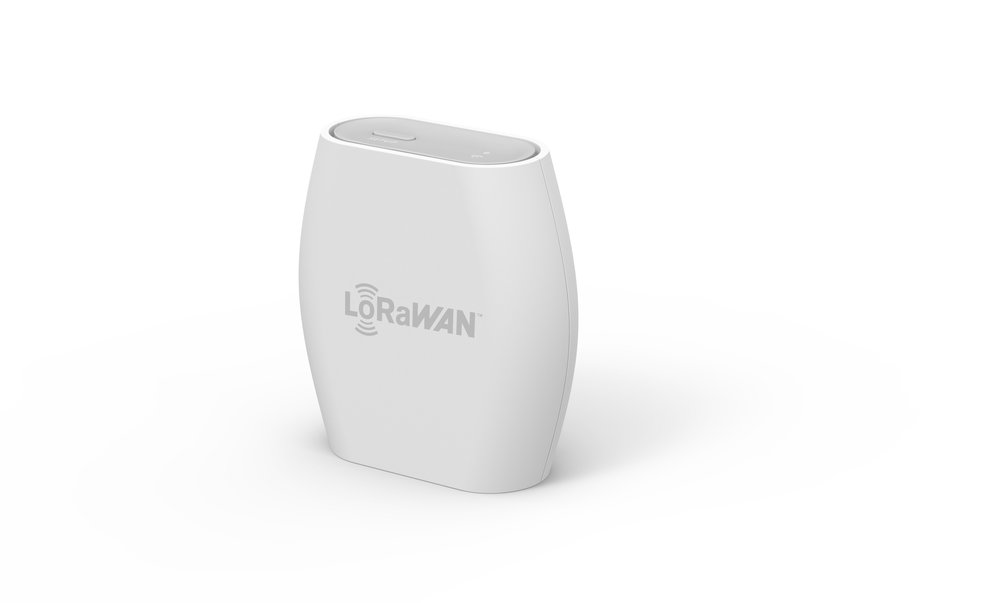 For our customers we have set up our own gateway. It comes with cellular network and SIM card and you only need to provide power for the installation. Read more about this here: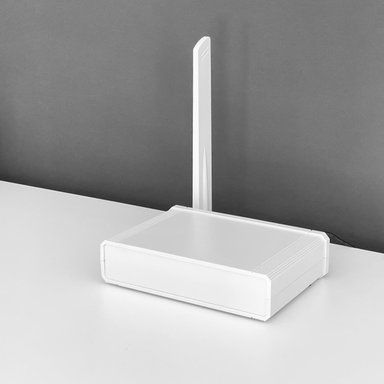 Why Cellular?
In industrial applications it is often very difficult to connect devices to the Internet via Ethernet or WiFi. The reasons are mostly:
End customers do not want external devices in their intranet
Integration requires weeks of communication with the IT department
No know-how or skilled personell available
No infrastructure (WiFi or Ethernet) at the location of deployment
Cellular connectivity solves all these problems or barriers. The Datacake Gateway is simply powered up and after a few minutes it is connected to the platform and the sensors can start working. No configuration or programming is required.
DIY: LoRaWAN Network Server (TheThingsNetwork or Loriot)
The Datacake LoRaWAN Gateway comes with LoRaWAN Network Server. This server is needed to receive, decrypt and forward sensor and measurement data.
However, if you decide to build your own network, you can use the following open and affordable starter variants, including
The Datacake platform provides dedicated support for all these networks. And we can assist you setting this up.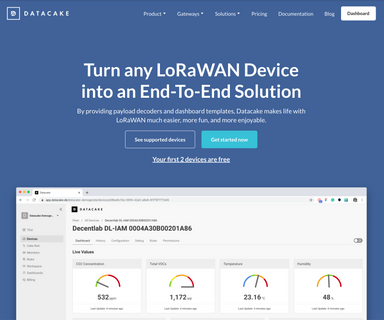 Using multiple Sensors
Another advantage of the combination of LoRaWAN Gateway and sensor is that one gateway can connect with hundreds of sensors (and not only fine dust, but also others such as noise, power consumption or CO2).
Thus, it's possible to set up an area-wide system of multiple particulate matter sensors all distributed in a factory just by simply putting in more and more sensors.
Why would you do that?
Well, fine dust is constantly in motion and defies gravity, but still: If you measure at a position in your production hall close to a source of origin, the measured value is inaccurate less than five meters away.
If, for example, you now control a central ventilation system on the basis of these values, then the control is inaccurate and inefficient.
Especially in large production halls or buildings, it is therefore advisable to distribute sensors several times at reasonable positions.
With the combination of LoRaWAN Gateway + Talkpool Sensor such a scenario is possible even with a small budget.
How clean is the air actually?
Another application for a fine dust sensor is to make a statement about whether the air is clean. Fine dust is light, small and therefore not visible to the human eye. Even with subjectively good air, the fine dust pollution can be well within the limit.
But also the check of a central filter unit / air ventilation system is interesting. Does my ventilation work at all? Does it bring the effect mentioned? This can be checked by using such a sensor (or several).
Saving energy - Filter Unit Automation
And if the air is really clean, the ventilation system can be switched off. With a fine dust sensor you can make a statement about the cleanliness of the air and automate the ventilation accordingly. Consequently, you save energy.
Check legal limits!!!
Depending on the country and industry, there are legal limits for fine dust pollution. These should be monitored. If an appropriate fine dust sensor is used correctly, it can make a well-founded statement as to whether the pollution is too high and thus the limit value could be reached - or - whether everything is OK.
Monitoring
The determination of the dust content alone is not sufficient. The measurement data must be visualized accordingly.
For this purpose, Datacake provides a platform on which these sensors (and others) can be integrated at the push of a button. No configuration or programming is required.
Set limits and send Alerts via SMS or E-Mail
High resolution Data Storage (up to several years)
Export Data to Excel- or CSV-File
Invite Customers or Employees and set permissions
Open API over MQTT, REST, OPC-UA, etc.
Smartphone App
Cost
Sensor
Talkpool OY1700 Particulate Matter Sensor: 180€
Gateways
TTIG: 80€
Standard-Gateway: ca. 160€
Datacake-Gateway: 350€
Monitoring
Free (for the first two Sensors and with 7 Days data retention)
From 3rd Sensor on: 3€ per Month or 25€ per Year (and Sensor)
Starter-Kit
If you want to get started immediately and do not want a configuration, we also offer the following starter kit:
Datacake Cellular Gateway
3x Sensors
Plug and Play (Ready to go)
Cloud + Cellular for 2 Years
Costs: 1.250,- €
We have caught your interest?
Contact us without obligation and we will be happy to advise you on the installation of a system for the collection of fine dust or other parameters.
Interested in a live demo? Have questions?
We can also do that for you. We will show you the system in a 30-minute online session using a real example and will also be happy to answer your questions.
Simply use the Live Chat functionality here on this website and we reach out to you directly - or follow the link below: